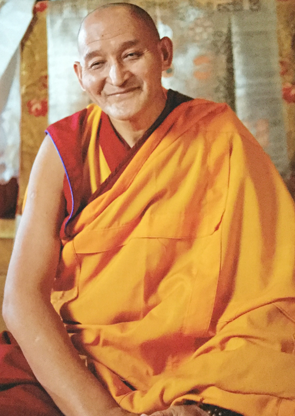 Geshe Jampel Senge was born in Nyanang in Western Tibet close to the Tibet-Nepal border. He was forced to leave his country when communist China invaded Tibet and occupied it. It took him and his family six months to cross the Himalayan mountain into Nepal. After another few months in the mountains, his parents decided to come down to the foot hills of the Himalayas among the Sherpas.
Soon, the Tibetan Government in Exile sent two teachers to teach Tibetan and English Language along with other subjects. After about two years in the Northern foothills of the Himalayas, the family decided to come to Kathmandu and from there to India. They were accompanied by some 15 to 20 families who fled their country in the aftermath of the Chinese invasion.
His father passed away on the Nepal-India border before crossing into India. His mother along with two sisters continued their journey to India with his compatriots.
At Pathankot, the family separated. Geshe La and his younger sister were taken to school while his mother and elder sister went to the road camps of Kulu Manali in the foothills of the Himalayas. It was the last time he saw his mother. She passed away in the road camps while Geshe Jampel Senge was studying in Mussoorie in Northern India. Being an orphan he was put into the Tibetan Homes Foundation for orphan and semi-orphans. He attended the Central Tibetan School in Mussoorie.
In 1965, he was admitted to the Ockendon Centre, a school founded by the British Charity Organization called Ockendon Venture. Finally in 1968, he joined Cambrian Hall in Dehradun and completed his Senior Cambridge in 1971.
After completing school he returned to Nepal and taught at the Tibetan School in Swayambunath for two years.
In 1973, he left Nepal for good and went to South India to join Sera Monastery in Bylakuppe. There he studied the five great treatises of Prajna Paramita, Madhayamika, Vinaya sutra, Abhidharma Kosa and Paramana. He achieved the highest Academic excellence by being awarded the Geshe Lharampa in 1991. In 1996, he was invited to teach in Australia. He has since lived and taught at the Tashi Choeling Tibetan Buddhist Centre in Perth except for a seven year stint in Switzerland at the Tibet Institute.